Aimee Bello, Altared Space Healer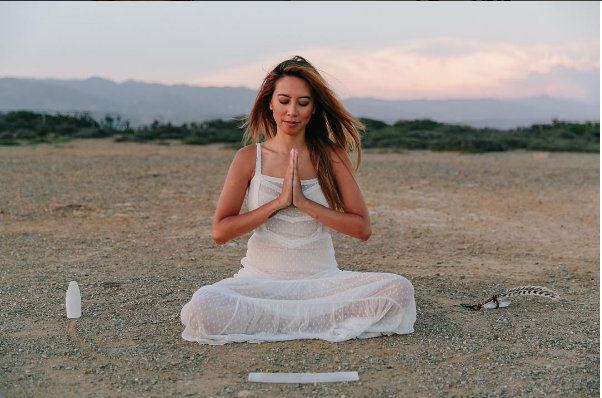 Aimee Bello is a Los Angeles-based Master Level Reiki Teacher, Sacred Geometry Healer, Past Life Regression and Intuitive Guide, and a Kundalini Yoga Teacher. Her Altared Space Healings incorporate Reiki, crystals, essential oils, sound bowls, and gongs to remove energetic blocks and restore wellness and harmony. She is available for one-on-one healings and also teaches regularly at the House of Intuition, Golden Bridge Yoga, and Unplug Meditation. 
"I moved to California in August 2010 and I always knew that I was meant to live here. I knew it when I was 12 and it took me about 18 years to finally get here. Finally when I arrived, it just felt right.  My spirit was like, 'Thank God, finally your mind and body followed.' At the same time, I was also a year divorced and I was seeking my own healing. I think that I didn't really give myself time to grieve and was really trying to find myself. I was divorced from a 13 year relationship. I was married for 4 1/2 years, but we were together since we were 16. So there was a lot of releasing of identity and releasing of story, releasing of all I've ever known myself to be.
At the same time, a friend of mine mentioned that another friend of hers, who is now one of my best friends, was holding a Reiki circle in her home. At that point in time, I was up for anything. I was starting to really feel open so I went to it and it was instant... right then and there, I decided I wanted to go through my level one certification. Right there. It's called an attunement – attuning yourself to the frequency or vibration of a certain aspect of you, yourself physically, spiritually, emotionally, mentally. I decided right then and there that I'd do it and just felt immense love. So supportive, so encouraged. It changed me.
It really was a reconnection to something that I always had knows since I was a child. I always felt really connected to nature. I thought I was a witch. I thought I could work with nature and energy and I would collect all these spices in my parents' cupboard and these little amulets and such. I thought I was thrift shopping and really I was stealing stuff. [Laughs]
It was pretty amazing that when I stepped into Kundalini and Reiki, it was instant. It was like, 'Do you remember how to play? Do you remember all this that is so natural to you? Do you remember how we've always been here and we've always been supporting you?' I heard that in the trees. I heard that in the grass. I heard that in the wind. It clicked.
It happened and it was very cosmic and very meant to be and very serendipitous. From there, I just started to teach and teach and practice and heal a lot. And now, this is what I do. It's been quite a ride. There has been a lot of releasing of expectations of what I thought I was going to be doing.
HEALING PRACTICE
Altered Space Healing is a kind of an accumulation of the different modalities that I love and healing through Reiki. When we stub our toe or hit our funny bone we automatically go to grab it – or stomachaches or headaches – and so that's really what Reiki is. It is the innate ability to heal through our hands, but doing so consciously to harness the healing energy that comes through, which really is love – it's attention and affection. It is the same thing we do with a friend or a family member or even a stranger – and likewise as people do for us when they give us an embrace or a hug. We can feel that there is an energy being exchanged and feel that relief or release when we are receiving something.
So, in Altered Space Healing, first and foremost the foundation is Reiki. Through my Reiki practice then, I started to develop an affinity and connection to crystals and the healing energy through crystals amplifying the elements that exist within us, that kind of fine tune us. That what crystals are used for — they're tools as well as essential oils. [Essential oils offer] the same thing – the frequency of the aromatherapy. So adding that into the healing as well as sound therapy – vibrations that come through Tibetan sound bowls as well as the gong. And so I implement all of those different modalities into one and that is called Altered Space, which is also the name of my practice. So that is the Altered Space Healing and that's a private one-on-one.
And then I created the Altered Space Healing class and that class involves all that Reiki, crystals and essential oils and also a guided meditation. The guided meditation connects to different content and different areas in your life like love or different chakras, energetic centers like your heart or throat for communication, forgiveness, success, prosperity, connection, divine feminine and masculine. I guide you through that mediation as a crystal is placed upon you so it is amplifying your energy as well as being programmed to your intentions. Essential oil is then placed on your third eye to activate that energy as well and then after the meditation, I give everyone energy healing and play the gong. So it has all of that in one, but in a group setting.
HOW IT HELPS
Often, [people come to me for] relationships and stress relief. Working on prosperity, whether it's work or just generally. Really, above any of that, because those are kind of symptoms of something that is deeper, is just a reconnection to themselves. Somehow, someway they have lost themselves in their patterns and habits that aren't serving them anymore and that are actually creating more of a block. They want to become clear of that, they want to have some sort of support or guidance because it is a way of life that they have always known but they know that it no longer works for them. So they want a little boost or a guidance or a push to know that there is another way because in their mind, they are already thinking, 'This isn't working. There has to be something else.' Reiki, along with many other modalities, is that something else. There is so much unlocking of what they have been holding onto from this lifetime or past lifetimes that no longer pertains to their now and evolving goals. Once they can pinpoint and say, 'Ah, that is where it started, that is where it came from,' there is catharsis and healing. Once they can put a finger on it, they can say, 'Wow, that's not me now. That is me at 10 years old or 10 years ago. That was me in another lifetime. That is not me now.' In realizing that, it gives them power to change it.
After reiki, often people say they feel 'light.' They feel 'lighter' as well as 'light' like the energy of light, like brighter. And they are, they look and feel that — 'lighter.' Another is 'clear' compared to when they walked in. Calmer, more relaxed. And so, of any of the modalities, whether it's Reiki or past life regression or kundalini yoga – it's relaxed because they feel more of a state of balance within themselves and not scattered, trying to reach outside of themselves.
WHY IT'S REWARDING
Whenever I'm sharing a healing space with anyone, whether it's in a class or in private, I'm constantly inspired. One, I'm constantly inspired by how far I've come because they are also a reflection of something that exists within me. So, when anyone comes to me with what they are going through in their life and I remember and say, 'Ah, yes. Remember when you were there?' Secondly, I'm still so inspired because, just as anyone who is coming to me is seeking assistance, guidance and taking care of themselves by doing so,  it also reminds me to do the same. Reminds me to keep up with my work, with meditation, with yoga, with self-healing, continue to learn as well as asking for assistance because often as a healer, we take on a lot and we constantly are giving, it's just in our nature and part of our karma so it's more difficult to receive. It's just a reminder to take care of myself too, to stay disciplined and committed to my practice and to be open to asking for help.
It's a constant reciprocation of giving and receiving. One of my teachers, Yogi Bhajan – he's the man who brought Kundalini Yoga to the West from India – said, 'Don't idealize me. Don't put me on a pedestal. Although I'm sharing these teachings with you, it's the teachings that are coming through me. I'm just an instrument. My wish is for you to be a greater teacher than me.' And that's the truth, the teacher is supposed to learn first. So I'm constantly learning from every person who walks through my doors — as I am teaching them, they are teaching me. It's so important to keep that in mind when you are healing and teaching.
I'm just here to share and amplify the healing energy from the universe, which is replenishing and healing me as I'm sharing it with others. It helps me to not take anyone's energy on, especially with my friends and family. To be able to connect to a higher source of energy that is unlimited, that's infinite –versus our humanness, which is finite – when you tap into that, you actually feel more revitalized after. Although my human body can be tired, my energy still feels like it keep going."
– as told to Lenea Sims
All images via Aimee's Instagram [@aimeebello] (which we highly suggest you follow for giveaways and gorgeous crystal grids!)